🌎Amerika je multinacionalna zemlja. Dodeljuju joj naziv ,,melting pot" što bukvalno označava kotao pretapanja, a odnosi se na kombinaciju različitih ljudi, stilova i teorija.
🌎 Amerika broji više od 325 miliona ljudi. Engleski jezik im je maternji, a drugi najzastupljeniji je španski jezik. Postoji više nacionalnih predaka koji obuhvataju nemačko, meksičko, irsko, afričko, italijansko, englesko, japansko i portorikansko poreklo.
➤ Među njima ima više različitih etničkih grupa gde su najdominantniji belci: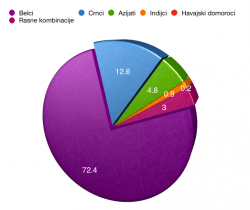 ➤ Religijski su takođe mešoviti: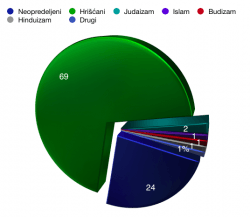 🌎 Među Hrišćanima su najdominantniji protestanti i katolici, dok znatno manje ima pravoslavaca.
🌎 Sjedinjene Američke Države obuhvataju 50 država. Glavni grad je Washington (District of Columbia) koji je po veličini na 22. mestu sa samo 672 hiljada stanovnika. U ovom gradu se nalazi i The White House – rezidencija i radno mesto predsednika Donalda Trampa.

The White House
Slika preuzeta sa sajta
🌎 Najveći grad je New York City sa populacijom od 8 i po miliona. Na drugom mestu je Los Angeles sa skoro 4 miliona, a na trećem Chicago sa oko 3 milona stanovnika.
🌎 Nešto više o njihovoj kulturi pročitaj ovde😍