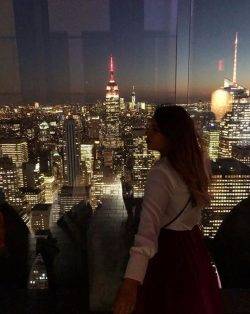 Kao većina žena i ja sam odrasla uz seriju Sex i grad prateći Carrie u njenim zgodama i nezgodama i to mi je bila vjerovatno i prva slika Amerike i New Yorka.
Malo pomalo studirajući sam se upoznala sa programom Work and Travel i sa sigurnošću mogu reći izabrala sam pravu agenciju- Experience agenciju! Na početku je sve djelovalo nestvarno ali od trenutka kad sam ušla u avion, avantura je počela.
Puno suza je proliveno ali sve je na kraju ispalo savršeno.
Popila sam kavu u Central parku, doživila spektakularan zalazak sunca sa Top of the Rock-a, zaplesala na Times Square-u, sjedila na Carrinim stepenicama, doživjela prekrasnu Philadelphiu i posjetila Washington. Vratila sam se doma sa punim koferom, nešto dolara i onim najvažnijim , ispunjenim snom curice koja je u vrtiću nosila zelenu torbicu sa Newyorškom panoramom 🙂
Glorija