Work and Travel USA
Prijava za Work and Travel 2019 leto traje do 1. aprila. Ostalo je još nekoliko mesta u području istočne obale Amerike. Dostupne su poslovne pozicije u sklopu svih standardnih poslovnih objekata – restorana, hotela i zabavnih parkova. 
Viziranje počinje već od sredine aprila meseca, tako da intervju sa poslodavcem očekuj vrlo brzo nakon prijave.

 

Možeš da se prijaviš sa drugom/drugaricom i da vas pošaljemo na isto mesto, a moguće i kod istog poslodavca.

 

Napisali smo ti i 8 smernica koje treba da uradiš nakon prijave za Work and Travel 2019.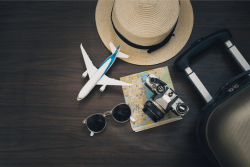 Internship USA
Prijave za Internship program su aktulene tokom cele godine. Od prijave do odlaska prođe okvirno 3-6 meseci. 
Working Holiday Germany
Prijava za program Working Holiday Nemačka će trajati nešto duže – do 10. aprila. 
Za ovaj program ti nije potrebna viza. Studentkinja Jovana Trivalić je pisala na našem blogu o svom iskustvu. 
Work and Travel France
Prijave za Francusku će trajati do 15. aprila. Za ovaj program, takođe, nije potrebno viziranje. Naša prva studentkinja Work and Travel France programa pisala je o svom iskustvu koje smo takođe okačili na blog. 
Više informacija za Work and Travel 2019
Ako imaš neka pitanja ili nedoumice kontaktiraj nas radnim danima između 9 i 16h ili poseti našu kancelariju u tvom gradu! Lične posete primamo svim radnim danima sem petkom kada se fokusiramo samo na rad sa papirima! 🙂
Novi Sad, Radnička 16 – Stan 2
Telefon: 021-310-1510
Beograd, Smiljanićeva 3 – Stan 4
Telefon: 011-3444-661
Subotica, Korzo 7/b
Telefon: 060-444-3452